Hello! I'd appreciate some advice on plants for my tanks.
My 20G long so far has only been a quarantine tank and has fake plants. NICREW Deluxe LED Aquarium Light, Full Spectrum Fish Tank Light for Planted Tanks, 30 to 36-inch, 28-Watt, 1800 LM, 7500K Light.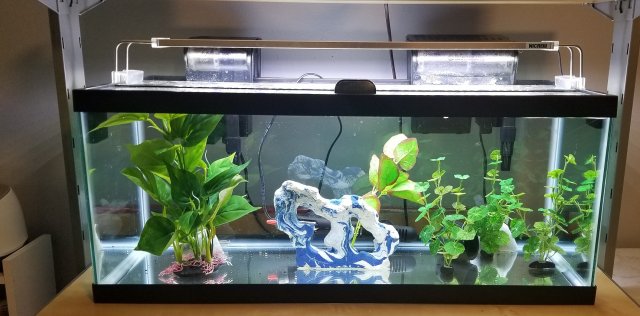 I'd love to get something easy and beautiful growing. Maybe just a bunch of grass. Don't have substrate yet but debating on black sand or black flourite. Will prob go with flourite unless I wanna get cories. I just want it to be an easy plant, I think with my light it will be high light correct? I'd be down to dose excel for a while but eventually i'd like to taper that off, keep it easy, but i'd love to get the whole substrate covered in something. So interested in any ideas for easy plants as well as stocking
Prob gonna do a couple small schools of nano fishies.
My 65G, has a 24/7 finnex planted light.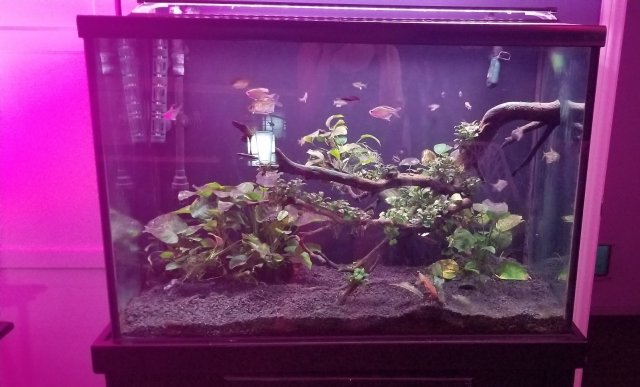 So the tank is pretty low light and it's all anubias at the moment. Low tech, sometimes I add excel to help with the algae but so far over the past 3 years the algae ALWAYS comes back especially the brown. I hear it might be due to silicates in my water. Also I acquired the tank second hand and it had already been running for a few years. New fish by now though. Anyway I have tons of anubias but I'd looove to get a carpet of something going, not sure if it's possible. I tried dwarf sags and they grew for a bit but never spread and eventually died off. Also any advice on stopping the brown algae? I'm debating getting some ottos at this point.