Global Moderator
Original poster
Staff member
Jun 15, 2008
3,550
381
92
37
Real Name

Jen
Camera Used

Canon PowerShot SX260 HS
Back story and details
As some of you may know I have on and off success with shrimp. Recently moved 2 females (1 berried) and 2 males into a breeder box into my 29g which had issues keeping inverts alive. They did pretty well for awhile, the other female even became berried but they always had a slight cloudiness to them. A few days ago the most recently berried female died so I decided to move them to a currently empty 20L.
Last night
Before going to bed I checked on the shrimp and the 1st berried female was deceased. Knowing she was so far along and that she was alive a few hours earlier I took to the internet and discovered I can scrape her eggs out and raise em myself. Built a tumbler out of sponge filter parts and started removing eggs, what a pain that was! I am not a delicate person lol. Got 30 eggs out of her, probably killed a few though.
This morning
I have at least 3 shrimplets as of right now! So either she was literally ready to drop em or I kinda crushed them out. She died with a split in her abdomen which is typical of the deaths I have. Still trying to correct it.
In the meantime. Anyone ever done this before? How long can the shrimplets stay in the tube? With the flow it might bring some stuff to nibble on but otherwise there isn't anything to eat really besides maybe their egg sacks (if they'll eat that).
Quick tumbler, literally took maybe 5 mins.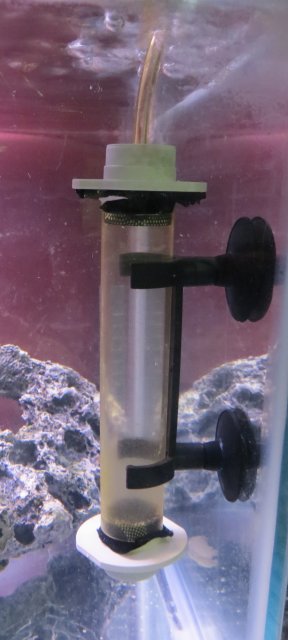 Eggs right after extraction. Visible eyes and red tint