Takifugu ocellatus
- Orange saddle fugu pufferfish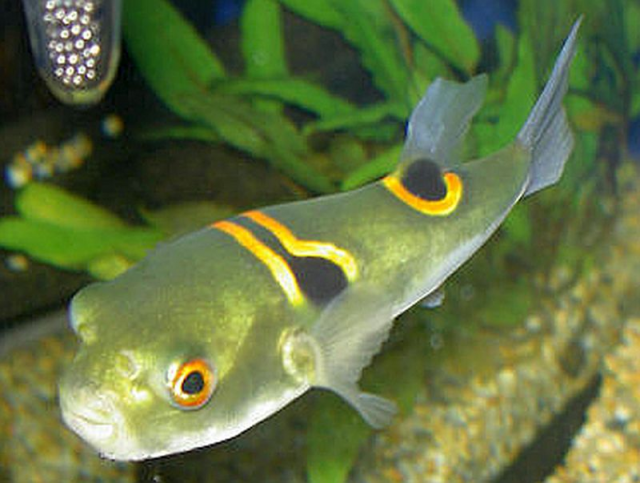 Scientific Name
:
Takifugu ocellatus
Common Names:
Orange saddle fugu pufferfish
Care Level:
Medium
Adult Size:
15cm (12")
pH Range:
7.8-8.4
Temperature Range:
24-28°C/75-82°F
Specific Gravity/Hardness Range:
1.015-1.025
Origin/Habitat:
Found in rivers and costal areas in China and Vietnam.
Temperament/Behavior:
Very aggressive. Difficult with most tankmates.
Compatible Tank mates:
Certain robust species such as similarly-sized puffers, scats, monos, and possibly eels could work.
Diet:
Hard foods such as snails, as well as softer, meatier foods such as bloodworms. Hard foods are required to trim teeth.
Tank Size For Adult:
A single specimen will require about 125 gallons.
Narrative:
Like many brackish fish, often sold as a freshwater specimen.
T. ocellatus
can live for certain periods of time in full freshwater, but will not prosper when kept in freshwater long-term, and will ultimately die prematurely.
Takifugu
are commonly served as simply "fugu," and are available at some sushi restaurants. If purchased in freshwater, transition to brackish via slow drip acclimation. No sexual dimorphism is noted.
Last edited: