AC Members
Original poster
Feb 26, 2020
179
237
46
28
Camera Used

My phone (Samsung Galaxy A8)
In my one 20g i have 6 cories, only they are 3 peppered and 3 trilineatus.
Total stocking include:
1 molly
7 skirt tetras
2 platies (mom and daughter)
3 peppered cories
3 trilineatus cories
1 nerite snail
2 ghost shrimp (can be moved if needed)
I plan on upping my filtration within the next while, so with that, would it be doable to add 1-2 more of each peppered and trilineatus? Or leave them as is? They shoal together great, always hanging out and rafting together. Theyve been together since babies.
Ive felt guilty that i havent been able to get these 6 a proper shoal like i have in my other tanks.
Here's the 6 goofballs during a water change.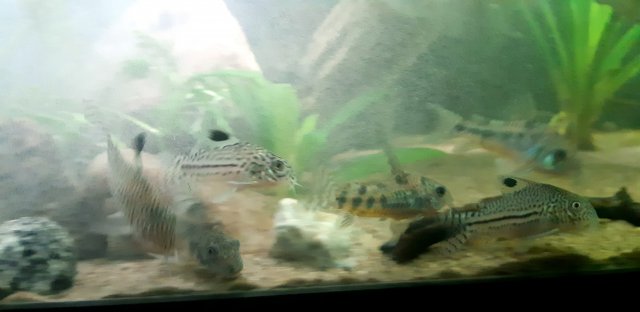 I have 1 tank without cories, another 20g but its not planted and already heavy stocked. My other tanks have cories and dont have room for more bottom dwellers.
In my other tanks i have:
6 aeneus corydoras
1 agassizii corydoras
5 weitzmani corydoras
10 pygmaeus corydoras
So these guys are the only ones without their "own" shoal besides my oddball agassizii that i cannot find more of for the life of me (she was a rare mix up at a lfs)