Ok, so I'm not ACTUALLY building yet. I'm in the planning stages. But I wanted to document, so here it goes:
This is the pond area, marked off with garden hose. The hose is actually marking the edge of the liner, not the edge of the pond. The pond itself will be in about 1 foot all around from the area the hose is marking.
A view from the patio (the dogs helped by dropping their toys in the pond):
A view from the stairs of the patio: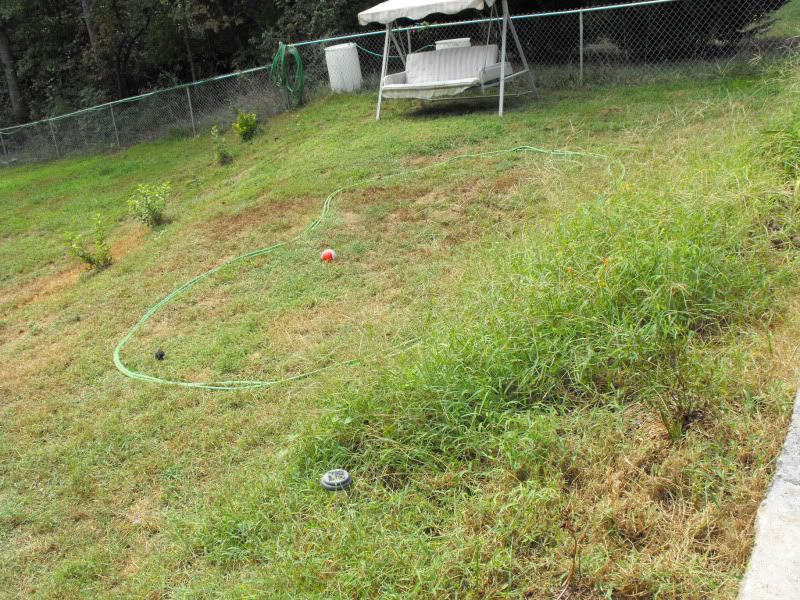 A view from the "narrow" end of the pond - this will be around 6 feet wide at the widest point INSIDE the plant shelf (plant shelf to be 1 foot wide):
Another view from the 6 foot wide end: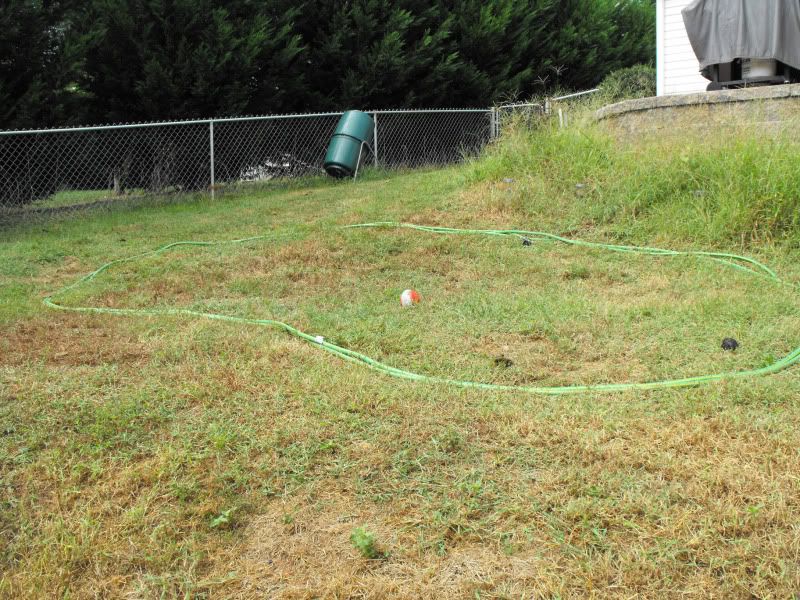 A view from the small hill below the pond (I may run a bottom drain here). Those shrubs are Variegated Weigela, which should eventually fill in to about 4' high and wide, but they're only a few months old right now - they will come about 2 feet from the edge of the rock line around the pond - enough room to have a walkway around the pond still:
A view from the wider end (around 8 feet wide at the widest point inside the plant shelf). That top left corner here is where the filter/waterfall will go. We'll use the hill to help with the construction of the filtration/waterfall section:
A view from next to where the filter/waterfall will be:
I think the most expensive part of the project is probably going to be the electrician that we'll need to have run wiring from the front of the house (where the electrical box is at) to the edge of the pond. Hopefully we'll be able to do it without TOO much expense. I haven't started pricing that out yet. My filter will be a DIY filter out of a rubbermaid container that I saw on one of Lenny's links. I'm not 100% sure how best to make it accessible while still making it look like a rocky waterfall. But I'll worry about that later.
We are planning to start digging before the end of the year. It doesn't really start to get cold here until January, so we'll be digging maybe October/November if all goes well.
Any input, hints, suggestions, etc are always welcome. I want the project to go as smooth as possible, which is why I'm still in the planning stages.
And now I have bought myself a little time since Hermes (the rescued goldfish) has a suitable tank to live in for as long as necessary. I don't want to rush into this and make expensive mistakes.
Anyhow, I'll update on here as things progress.