AC Members
Original poster
So I have a fairly new tank, has been set up for about 1.5 weeks now. I added Tetra Safestart and currently have about 8 small fish in my 20G tank. I have it set up with standard aquarium store gravel, 2 small pieces of driftwood and three small live plants. I also put a couple of pieces of old pottery in it for interest.
My struggle is the pH, it keeps getting quite high, like in the 8.0-8.2 range and I have no idea why.
My test results this morning were pH 8.0-8.2, Ammonia: 0, Nitrites:0, Nitrates 0.
I did a 50% water change Friday night (night before last) because I was having ammonia readings between 0.25- 0.5 and I had a couple of fish die. I think my ammonia spiked because I added fish too fast (although readings before adding fish were ammonia 0-0.25, pH ~ 7.4). I'm really not sure why my fish died, I wonder if it was a combination of stressors.
I've tried adding driftwood to lower the pH with no effect, ad about 12 hrs ago I tried adding some Indian Almond leaves, but my pH just went up over night from 7.6 up to about 8. I did add an ayirstone yesterday, because of the fish dying/ ? ammonia stress, which may have contributed to the rising pH.
I have resorted to dosing with a little white Vinegar when pH gets up over 8, but I intentionally never lowered it past about 7.6. I tested my treated tap water and pH was about 6.8, so I'm just completely at a loss.
I don't want to lose anymore fish... Thanks for any help you can give me.
I know I've made a bunch of rookie mistakes, but I'm doing my best to sort it out now.
View attachment 224118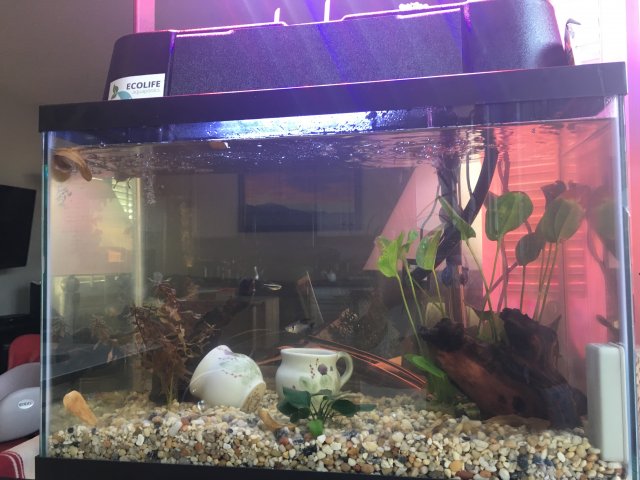 Last edited: