(I just posted this on another forum, but I thought folks here might be interested too so I copied and pasted it)
As some of you know, my tanks have been badly hit with a disease that I haven't found a way to deal with. I've lost quite a few fish to either dropsy, emaciation, ulcers, or severe abdominal swelling (without the pineconing from dropsy). Some have died with no symptoms whatsoever.
I started suspecting fish tuberculosis (which is actually a non-tuberculous mycobacteria, usually M. marinum or M. fortuitum) after reading this article posted on the forum:
http://www.atlasbooks.com/marktplc/00388mycoarticle.pdf
Then I went on to several other articles, the most useful of which is this:
http://edis.ifas.ufl.edu/vm055
Today I went up to my old college to do the stain to find out whether or not my fears of mycobacteriosis were unfounded. My old advisor, Dr Coggin, was kind enough to help me with the process since once I actually got in there I got a little frazzled. I'm not exactly comfortable with cutting open my pets with a scalpel after all.
The fish I chose was one of my female bettas, Ruby. She was quite obviously in bad shape and would not have lasted the week.
The light colored spots are where the light from the hood was shining through her body from the other side.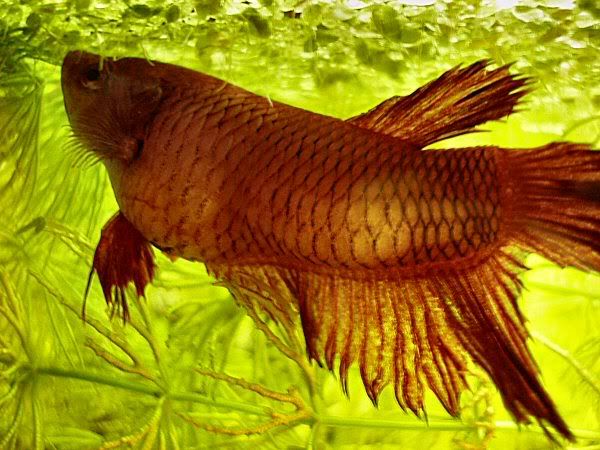 I euthanized her using clove oil, and put her in a petri dish to get the sample. It was disturbing to say the least. Her body did not have the firm feel that I'm used to when touching fish, but rather felt almost exactly like a water balloon.
I used a scalpel to start the incision to inspect the organs for granulomas (the white balls of tissue that forms around bacteria in the body's attempt to wall it off). Searching proved to be entirely unnecessary, however, because as soon as the scalpel went in, granulomas came out. Unlike the fish in the second article I posted up there, Ruby's body was completely packed full to the extent that it looked as if she was bleeding tapioca. It was so unbelievable that Dr. Coggin had to assure me that it was actually granulomas we were seeing.
I'm just going to post this picture as a link since it's a bit graphic:
http://i201.photobucket.com/albums/aa282/Squirrelborg/betta_necropsy.jpg
And one of a few granulomas separated out:
And on to the test itself, Dr. Coggin took a single granuloma, crushed it, and smeared it on a microscope slide. Then I heat-set it by passing it through the flame of a bunsen burner. After that I added a few drops of Zeihl's Carbolfuchsin stain and put it over steam for 5 minutes to set.
After that I rinsed the stain off with water and then decolorized it with an acid alcohol solution (most bacteria will not hold stain when washed in acid alcohol, but myco is one of the very very few kinds that will).
Next I counterstained with methylene blue for one minute.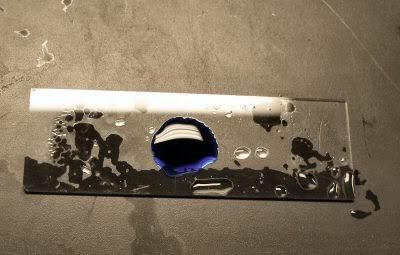 After that was rinsed off with water we could finally put it under the scope using an oil-immersion lense (1000x) and see if there was any bacteria showing as red. Unfortunately my camera couldn't get a clear shot, but Dr. Coggin is keeping the slide and will email me some pics if he gets a chance to use the microscope with the built-in camera.
(not a good pic at all, but the best I could get)
Dr. Coggin confirmed it, it's a
definite positive
for acid-fast bacteria. My fish do in fact have TB.