Jun 15, 2008
3,550
382
92
37
Real Name

Jen
Camera Used

Canon PowerShot SX260 HS
And more than 6 months later the decision for this tank is.....I dunno. lol Still just kinda in limbo growing out some mollies and waiting for me to do something with it. But I wanted to give an update.
Current occupants are like a dozen molly youngsters, 1 seemingly male golddust molly, 1 rosy red minnow, 1 sickly SR BN and a few snails.
The one male GD molly was separated awhile back cause he was getting skinny and pale when all the mollies were in here but after being in a breeding net till the fry were big enough, he is fat and happy now. Still pale though but all the mollies lost their vibrant color.
The rosy red was the lone survivor of the typical " I have way too many aggressive cichlids in a 29g but these $0.15 feeder fish should be good too". His girlfriend's daughter rescued this guy just in time before all his fish mystery got severally sick and died. Hm, cheap feeders added immediately followed by illness then death, connection? na! He refuses to believe that anything other than the new decor item his girlfriend added killed them. I tried educating him in a nice manner but that is a weak point for me lol *clears throat* Anyway, the daughter named him Legacy and I have him now.
Sickly pleco is doing slightly better but nothing to get too excited about. At least it stopped getting worse! (Has this tank become like a rehab tank? lol)
Molly babies have grown but not as fast as I was expecting. 7 months old (just realizing this), being fed reasonably well (mostly crushed NLS flakes but not always twice a day but at least once a day without exception) but admittedly not getting weekly water changes because nitrates stay undetectable (I do top off with my well water though so minerals are being added and TDS has not gone crazy), they are like an inch still, some are way smaller even. Reflecting on it I suppose I should have done more water changes, oh well. BUT maybe it is another oddity of this tank? Something undetectable inhibiting their growth?
Even with my heavy handed feeding of this tank no "pest" snails have taken over and I know there are at least rams and MTS in there. The MTS are doing the best for sure, I see big adults and recently a mass of the cutest teeny babies though. Pest snails did ok in this tank at one point but maybe it's another sign of the "bad" tank?
But even with all these little possible signs of problems with the tank, the fry are alive and very active, I am rehabbing/ed 3 fish in this "death" tank and there are still inverts alive and reproducing! So it is hard to figure out what degree of annihilation the tank needs IMO. So i just saunter on. But with that said I am getting tired of having a "bad" tank that is in that limbo where I can't DO anything with it.
Pictures!
A big healthy MTS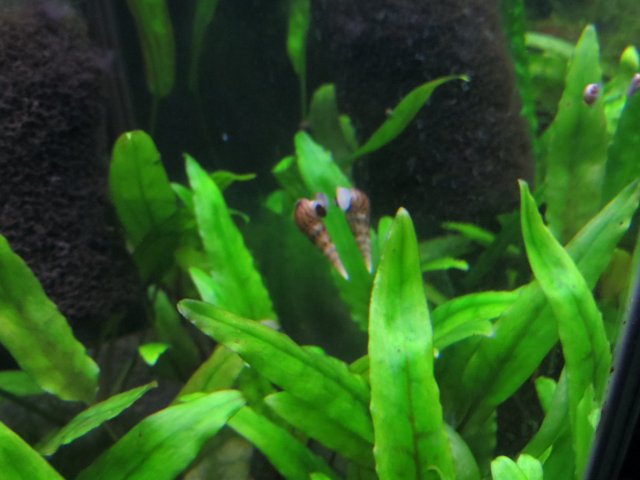 Crazy group shot! But you can see sickly pleco in the back looking not SO sickly.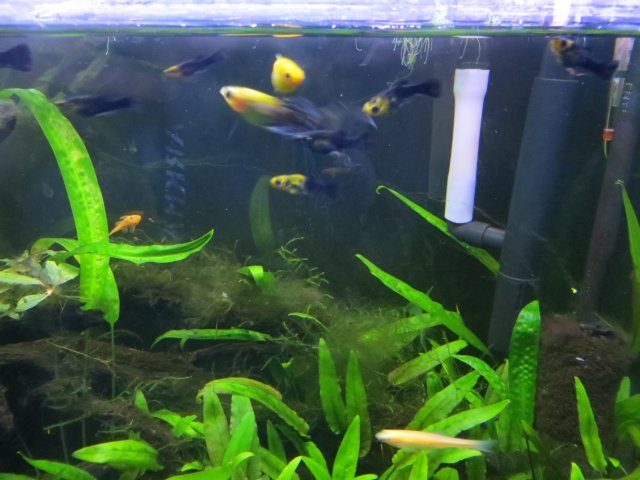 A decently clear shot of my favorite baby, the mostly yellow with 3 perfect black stripes in his tail fin and a black anal fin. Not a good "dust" example at all but it is the biggest and unique in appearance.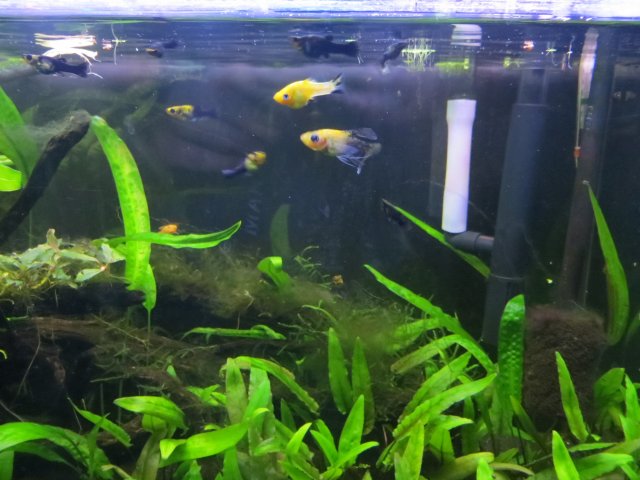 Crypts are doing well. Wanted to get more pics but my battery died. The unknowns (pictured) are staying at a smaller size and different leaf pattern than originally but doing great! The C. usteriana is great (surprised? me either) It may have reached all the way across the tank already lol. The C. hudori, C. nurii, C. affinis, C. wendtii bronze and an unknown from the 58g are all still "there", nothing crazy.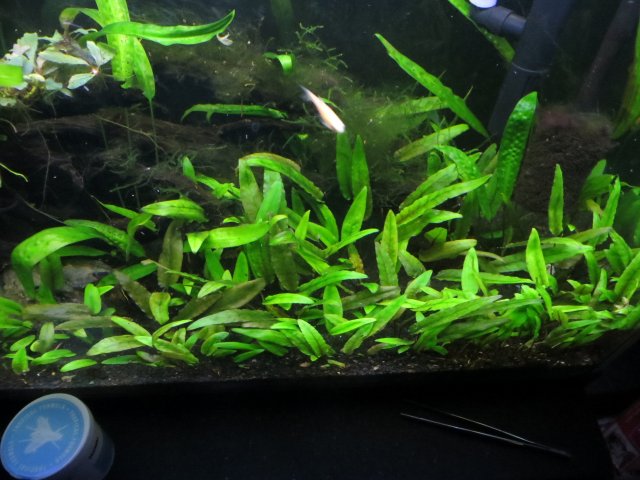 Other plants? Asst. Anubias are growing a little. Buce is kinda eh. It got crowded out by hair algae and released from the wood some and stopped growing but didn't die off either. There are bits of fissidens (phoenix moss), "other" mosses, subwassertang and bolbitis still hanging on. And the needle leaf java fern and balansae went POOF. (Java fern died in the 58g too just at a much slower rate *sigh*)
Hair algae is still an issue, lazy mollies! But never any glass algae. I have not cleaned the glass once in these last 6 months! I find it fascinating how different that is from my 58g.