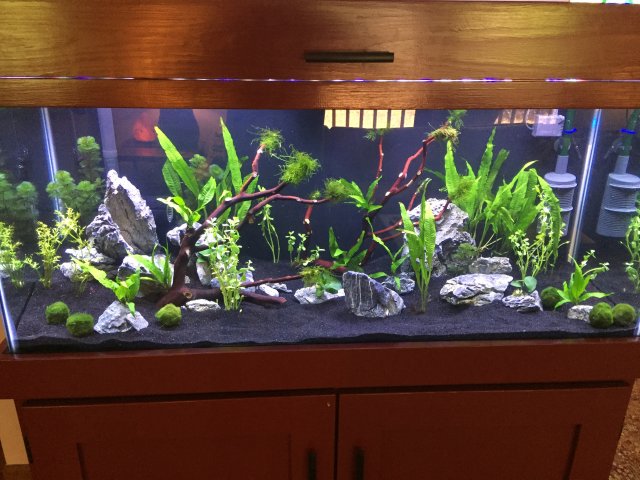 Hello everyone. New member here with a new tank. I've kept Africans and saltwater in the past so not a noob but it has been awhile.
I have setup a 75g low tech tank that is about two weeks into a fishless cycle. I've been doing a lot of research into SA community tanks and am working on my stocking list. The tank is all scaped and planted but no fish yet.
I'm using well water that is fairly soft with a ph of 6.4. With the Seiryu rock added the tank ph is up to about to about 7.2 but I'm hoping it settles somewhere under seven so water should be good for these fish. Plan to keep the temp at 80. Lots of filtration with an eheim 2226, ac 110, and a large cpr refugium (leftover from my saltwater days) with some lava rock, java moss and Marimo balls in it.
So here's my list so far:
1pair German blue rams
1 pair cockatoo cichlid
1 male dwarf gourami
12 cardinal tetras
18 rummynose tetras
9 Sterbai corys
1 red whiptail catfish
Snails (what kind and how many?)
Amano Shrimp (would they get eaten and if not how many?)
Maybe some Khuli loaches to keep the sand aerated?
If you're still with me thanks for hangin in
Looking for suggestions, additions, subtractions, whatever you've got.
Here's a photo so you can see what we're working with.