As we all should know there are bacteria that convert animal waste to poisonous ammonia. There's another bacteria that then converts the ammonia to poisonous nitr
i
te. And yet another wonderful bacteria that converts nitrite to non-poisonous nitr
a
te. These are the basis of our systems. Without these guys we would not be able to maintain our tanks.
We are often shackled to lots of expensive water changes to deal with this resulting nitrate. It's not poisonous but it does promote major algae growth. Well there is yet another bacteria we can press into service for converting the nitrate into nitrogen gas. However unlike all the aforementioned aerobic bacteria this bacteria is anaerobic. It hates air. Air will kill it or push it into dormancy. I suspect that if it is drowning in nitrogen (which is 78% of our air) it may not be able to make more nitrogen. Rather like the yeasts that make beer essentially killing themselves as they increase the alcohol content of their surroundings.
To provide the correct environment for this bacteria a relatively recent development has been the use of Deep Sand Beds (DSBs). The theory being that under 7 or 8 inches of sand there is so little oxygen available, due to poor water circulation, that this de-nitrating algae can do its magic. I've never tried this.
As some of you know I have high nitrates. Recent tests show them to be well in excess of 500ppm I cannot dilute further with my equipment than 10 to 1 and with my tank water diluted at 10 to 1 my reading is over 160ppm. This means my ppm may actually be around 1600ppm.
This is my diluted 1/10 test.
I also have 200 lbs of crushed coral... I prefer the look and the animal habitat crushed coral provides, but it obviously also creates a lot of nitrates.
What to do..?
Turns out you can actually use this nitrate gobbling bacteria in a different manner than with just a DSB. You can build a BioReactor, a device that is designed to help this bacteria flourish and do its magic. At least this is the theory.
Let's give it a try.
In a nut shell you make a tube charged with sulfur. The bacteria uses the sulfur to do its thing. You circulate water around and around in it over and over. Eventually the environment becomes anaerobic to the point that the bacteria of choice becomes content and flourishes. They promptly gobble up the available nitrate and generate nitrogen. Once this occurs the bacteria will starve and die. So to prevent this and to actually
get the desired job done
you let a very small amount of your tank water into and obviously back out of your bioreactor. More on this as we go along.
Here's my NitrateBioReactor build:
Here's the stuff I started with. Some things changed as the build proceeded. I'm going to use LSM sulfur. There is actually another brand that is supposedly pre-inoculated with the correct bacteria, but it costs an absurd amount of money in my opinion. It's larger pellets which are more desired but we'll see.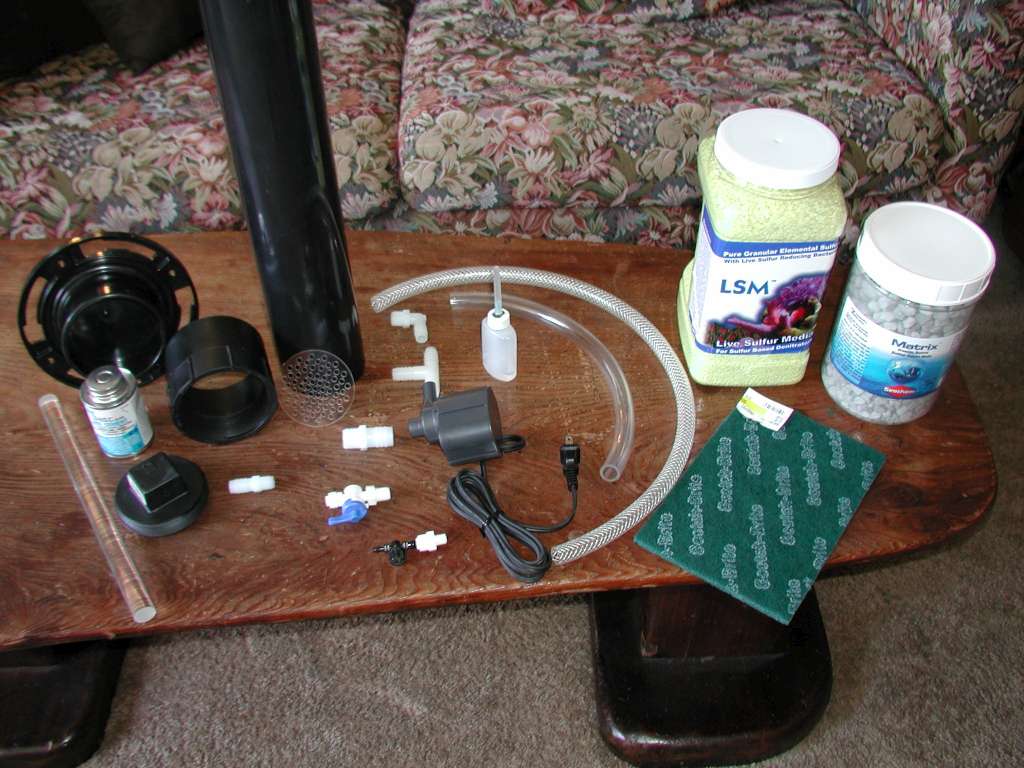 I found this cool flange that is called a test flange. It comes pre-sealed so pressure testing can be done without plugs being needed.
The flange has this tab on it that the plumber is supposed to grab with pliers and rip out after testing. The tab actually sticks above the plane which would cause a nasty rocking situation. I used a razor knife to carve the tab below grade.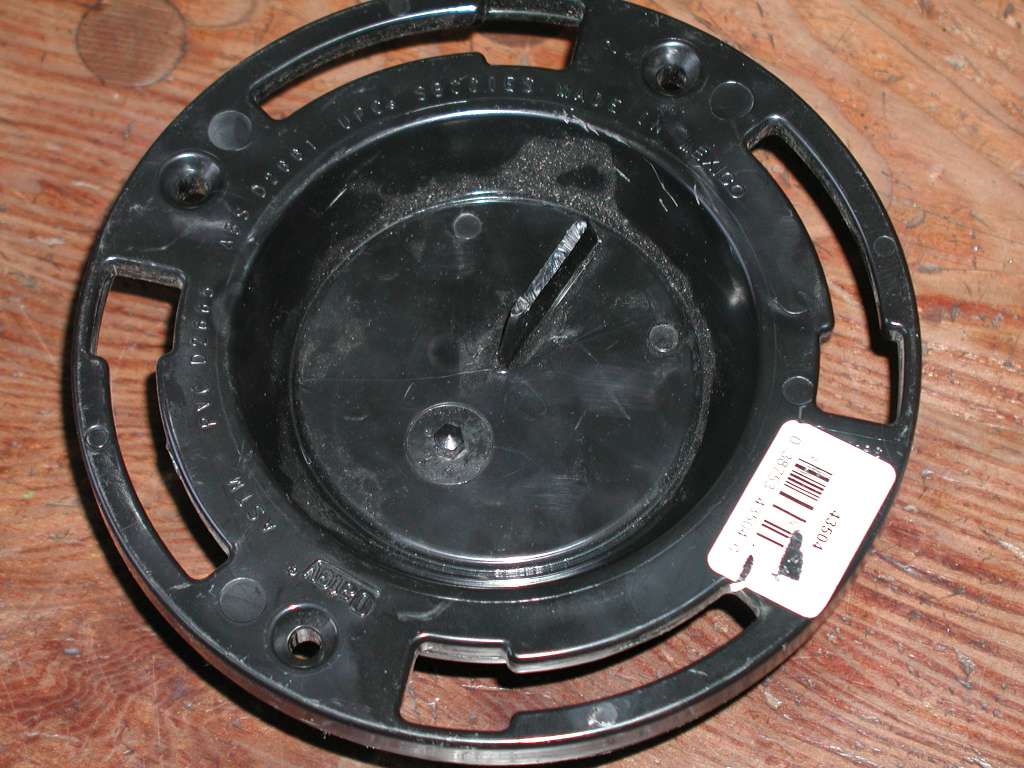 Pipe glued to flange.
Here's the diffusion plate to keep the media from plugging the recirc port. I Punched it out with my CNC router. First plexy I ever routed. Went off without a hitch. I was stoked! You can of course just use a drill and a saw to make one too! I glued a single rod on it to stand it off the column's bottom. This turned out to be a major sadistic nightmare. I was never able to stick it all the way down the pipe even after about 30 attempts. I finally snapped off the peg. I took a piece of schedule 120 PVC 1-1/2". I drilled it full of a million holes. I dropped it down the barrel. When I had it fairly centered I dropped the plate down the hole. This was followed by a ScotchBrite disk. I followed that with a layer of Matrix. Then a homogenized 50/50 mix of matrix and sulfur up to the top. Followed by another ScotchBrite disk.
Here's the upper port inside and outside views.
Vent inside/outside. The vent allows you to bleed off the nitrogen that can become trapped at the top of the column. Perhaps every day at one feeding. I am hoping that the nitrogen just leaves out my effluent drip line.
Finished product. My outlet is at the bottom. The inlet is the top. No external pump needed as long as the unit is below the tank.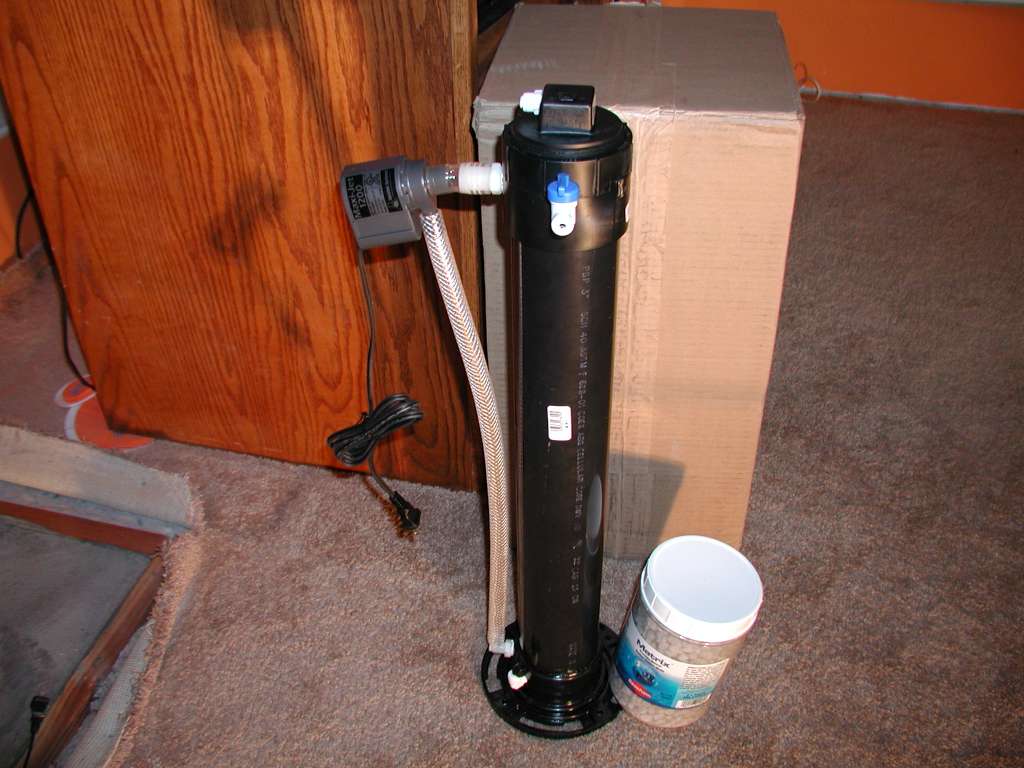 Now the unit is hooked up, charged with tank water and the outlet is set to drip one drop per second. What will be seen is in about three days the bacteria will start to establish itself. When it does this the effluent coming out will start increasing from non-detectable amounts of nitrite to 1ppm even up to 4ppm of nitrite. Since it is just a drop a second though your tanks normal nitrite to nitrate bacteria should convert this to nitrate with no detectable rise in your tank's nitrite levels. If you actually end up with nitrite over 3 or 4 ppm coming out you can test your tank's water just to be sure. There are other tricks like running this whole thing in a pail to avoid nitrite into your tank but this should NOT be necessary and adds complexity.
After a day or so the nitrite effluent should drop to undetectable levels and then the magic happens as the nitrate level of the effluent will next drop dramatically. If lucky it drops to zero. This means nitrate in - zero nitrates out! Eventually your tank nitrates will diminish to a very low level depending on your nitrate sources.
As the nitrate level in the outlet drops you need to increase the flow thru the Bioreactor. If yo don't you will start to starve the thriving bacteria and it will die. When this is occurring yo will start to smell hydrogen sulfide. (rotten eggs). Each day you can increase your drip rate by a drip/minute up to about a good dribble.
As your tank's nitrate heads to zero you will also start to starve the bacteria. You then have two choices. One is to take the unit off line. Flush it with RO water and leave it for another time. Or remove media. Idealy you get the media level correct for your tanks actual nitrate production llevel to keep things balanced and steady.
A successful NitrateBioReactor will reduce your need for water changes dramatically. Yo should still do them but you will be able to do them less often or of smaller size.
Ok now for my results.
After 48hrs, no sign of anything happening at 1 drip/min.
After 72hrs a measurable nitrite level has shown up. 1ppm.
No obvious nitrate level drop. But then it needs to drop possibly 1400ppm before my test picks it up as anything other than overrange.
After 96hrs WOW!!! My nitrate effluent is now at 60ppm!! I am amazed. The nitrite is still at 1ppm. No concern to me. I have just turned up the flow to 2 drops per second.
Stay tuned.