The multibarred angelfish (Paracentropyge multifasciata), belongs to the small group of 3 species of the 'subgenera' Paracentropyge. This elusive and cryptic fish, gets its characteristic name thanks to the black vertical lines that adorn its body with a yellowish tint, which begins in its mouth, runs along its pelvic fins until it reaches its anal fin. The specimens that are obtained in the Marshall Islands highlight fine yellow lines located between each vertical black line. In previous years, this fish was a bit unusual in the aquarium trade, I remember knowing and reading about it just 11-12 years ago. I got this fish about a year ago, with some points that I would like to share as a personal experience.
I received a fish in excellent condition, fat, with a great character, he was not shy and swam all over the tank grazing the seaweed from the rocks, he had no problem with my not at all nice flame angelfish, this guy really detested new companions . Here you can see my P. multifasciata, illustrated in front of the book "angelfishes of the world" by Kiyoshi endoh: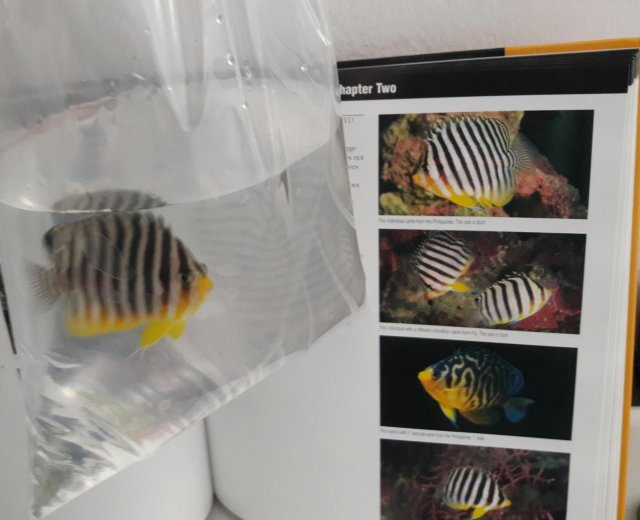 Due to their evasive and scary tendency, it's common that these fish often don't end up adapting to the environment that surrounds them in captivity. Living at a depth of approximately 30 meters, its diet is based on sponges, algae, and some corals that can be obtained in these areas. The behavior of this fish is fascinating, from the moment I entered my tank it did not run to hide in the rocks, it went swimming in its own excellent way, it felt like home, but immediately you can appreciate that it's a fish definitely distinct from most specimens that are collected from their cousins of the genus centropyge, due to their individual behaviors. Actually, I have never seen an angel fish with this behavior, only in videos of the owners of angelfishes species within the 'subgenus', (P. venusta and P. boylei). Seeing an angel multibarred swimming among the rocks, demonstrating his natural behavior as swimming sideways or upside down, outlining his body to pass between the stacked rocks was something wonderful to witness, without a doubt.
Unfortunately, not everything was good in my experience with this extraordinary specimen, I manage the temperature at 25 ° C, adjust it a couple of degrees less than normal, for more comfort of the specimen, gradually to reduce the stress of my other fish , and also feel comfortable with the idea. It offered frozen foods such as mysis shrimp, brine shrimp, cyclops, fresh clams, nori seaweed, and as last alternatives, a series of dry foods (New Life Spectrum saltwater pellet, Tropical spirulina pellet, New Life Spectrum optime flakes and Tetra Marine flakes) and I did not obtain any favorable result. Try these foods with caution, for 4 weeks the fish simply approached the food but never tasted a single bite, from here, its fat reserves were already deteriorated, and from the fifth week in captivity the fish began to lose weight accelerated.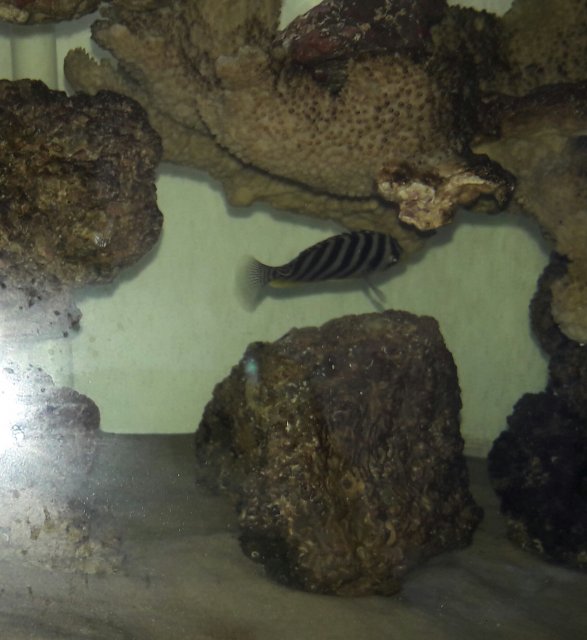 I received a specimen from Indonesia, these particular fish (collected in this area) don't have a good record in captivity, and unfortunately mine was one more within this statistic. The fish died at the beginning of the sixth week, without having tried any food, a tip that I could receive elsewhere, from an experienced hobbyist, was to insert a probe directly into the fish's stomach and in this way be able to enter frozen liquefied food so that in this way, in addition to helping with their fat reserves, the specimen could 'taste' the food, and then, hopefully, expect it to consume it by itself in the water column. This was not possible to do, having no experience to perform this process, seeking help from a specialized veterinarian was useless.
As a nice note, I must say that this fish was friendly until the end, always swimming for me, the memories I have of it are very pleasant. The possibilities to adapt to these fish in addition to the quality of the water they require, result in obstacles for their eating habits. If you are interested in acquiring a fish like this, make sure you have enough live rock to graze in your tank, it's a demanding fish and difficult to maintain, but it looks really spectacular and I assure you it will be worth every penny that comes out of his pocket. As a final point, I would like to encourage starting amateurs not to try to keep fish like this until you have a tank that is mature enough, or have the experience to do so, following this advice will help you not to be disappointed if fish like these just don't do well in your tank, and so a fish of this demand can find a home where it can thrive. For my part, I hope to have a new opportunity with this specimen in the future.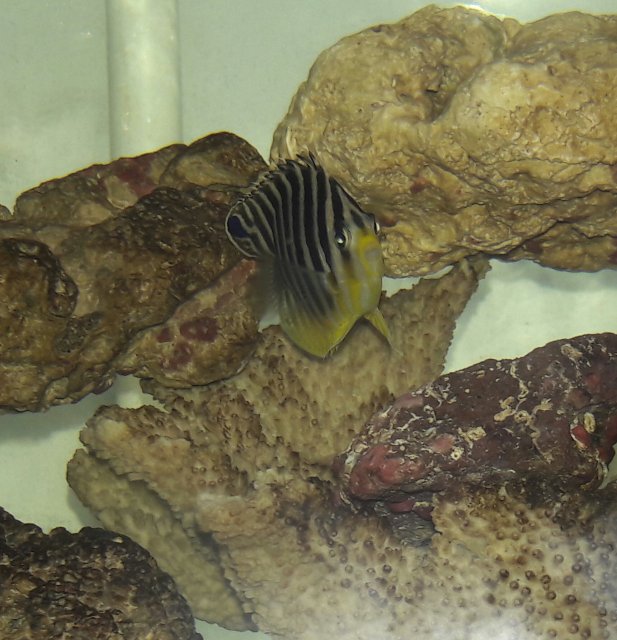 Please feel free to leave any comments or views that you wish to add.
Lalo Juárez.