Feb 26, 2020
1,538
1,518
149
32
Real Name

Casscats
Camera Used

My phone (Samsung 22)
Putting this thread together to kick off the new build. Since my corydoras eques are no longer kept species only, and are getting a tank upgrade, I've decided on opening a new thread for that journey since the 20g journey has come to an end.
A local messaged me saying his brother was throwing out a tank and asked if I wanted it. Was thinking of replacing my scratched 20 eventually anyways, but with something smaller like a 29 or a 35, or even a 40 tops.
However, who am I to turn away good fortune at a good upgrade, even though it's a 55 gallon?
It is lacking the centerbrace, but that's okay as I don't plan to fill it to the top, making it a paludarium with some emersed plants growing up top.
I am still in the process of setup as of this intro post, but happy to formally introduce the newest project.
The 20g setup on the left, which is the tank being upgraded.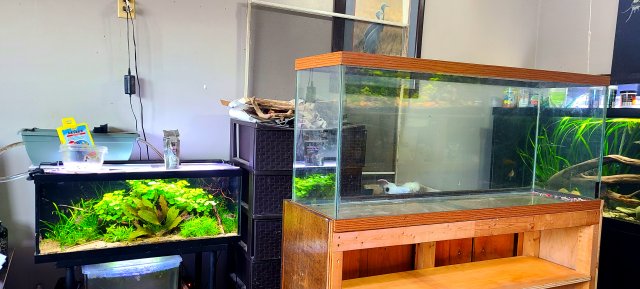 Wooden stand. Thinking of doing some art on the doors.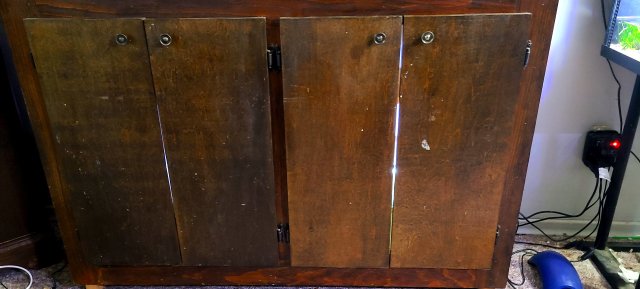 Moved my fry setups to under the stand, going to put my live food cultures and early nurseries up on the top shelf.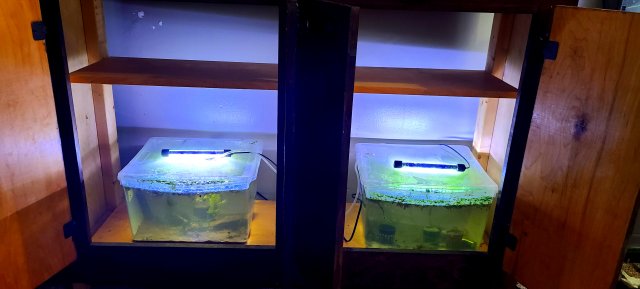 I used silicone to hold the upper branches in place and they have dried and are secure today. Still need to clean the glass a bit though.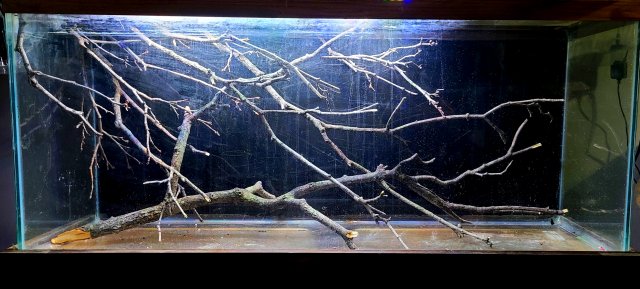 If it doesn't bow, the red line is my planned water level goal.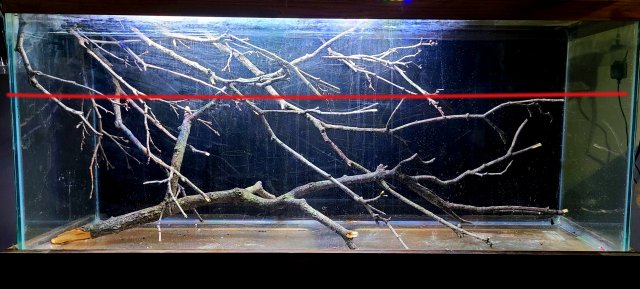 Stock as of right now being moved to this tank:
8 corydoras eques
10 ember tetras
6 lemon tetras
I am deciding on the final stock option for this tank though, maybe a pair of apistos or another shoal of tetras. But would like to stock fairly light otherwise.
Branches are maple, downed from a tornado last summer. Waste not want not.
Plant list as of start up:
Brazilian pennywort (emersed and submersed)
Stargrass
Guppy grass
Flame sword
Oriental sword
Helenthium quadricostatus
Dwarf Sagittaria
Bacopa caroliniana
Pogostemon g a y I
Eleocharis montevidensis (giant hairgrass)
Red root floaters
American frogbit
Plan to scape it representing an Amazon river riverbank with overhanging branches and emergent vegetation, scattering the submersed plants in a more natural manner. Some leaves will be scattered about, but tannins kept light.