i have been researching co2 regulators for A WHILE
now and have come to these two (2) choices as to what i can purchase and would like your input on them as to how they have worked fro you if you have had them or if i should just get the milwaukee from amazon :wall:
first choice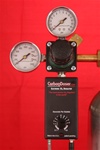 | | |
| --- | --- |
| CarbonDoser Electronic Co2 Regulator | $249.99 |
from aquariumplants.com
second choice
IDEAL CO2 Regulator
$249.99
from greenleAF AQUARIUMS .



*to the mods if i am not to post pics and names of suppliers like i did you could just delete sorry was not positive on that note.


thakns for your input.