My tank has been up and running for about a month now, and we have been -- if anyone has been following my other threads -- attempting a fish-in cycle with two small fancy goldfish (we plan to keep fancies once the tank is matured; amazingly, throughout this entire process, the two fish we put in there are not only happy, eating and thriving, they're actually growing significantly since we got them). We did two rounds of Seachem Stability treatment, per Seachem's recommendation after our bacterial bloom didn't really improve, and at this point we still have a bit of a haze in the tank, with API test readings that come back, day after day, with almost the same results.
As of today, 7/21, the readings were:
Ammonia: 0.25 - 0.50 ppm
Nitrite: 0 (this never seems to move)
Nitrate: 0 - 5.0 ppm (this also never seems to move, always coming in as a dark yellow color in the test tube, indicating the level is somewhere between 0 and the orange box of 5.0)
I have also performed several small (about five to 10 gallons each) water changes during this month time period when the ammonia level seemed to reach a definitive 0.50, but I'm not sure if this is setting the bacteria growth process back any.
Now, Seachem had suggested to me that I add some biological filtration media to one of my HOBs, an Aqueon QuietFlow LED PRO 75 (which only takes two floss cartridges with carbon), to speed up the bio-seeding stage (we have two filters on this tank; the Aqueon on one side, and an AquaClear 110 on the other with a foam block, floss layer and BioMax rings in the chamber). I also plan on running 200ml of Purigen in the AquaClear when I can get around to going to my local mom-and-pop aquarium shop (the only place that carries it in my area), but let me explain the crux of this thread with regard to the media I stuffed inside the Aqueon today...
As I said, I didn't get a chance to get to our mom-and-pop aquarium shop today to get the packs of Purigen (the local Petsmarts and Petcos don't stock it) but I will tomorrow, probably; however, I did get to a Petsmart and was able to pick up a small packet of bio rings (I wanted the Seachem Matrix, per Seachem's recommendation, but they had none, so I settled for the Fluval BioMax for the AquaClear filters) as well as a three-pack of small foam blocks (also from Fluval) which I installed in my Aqueon HOB. Here's what I want to know about this setup:
Because I couldn't fit the ceramic rings in front of the floss cartridges of this filter, I was forced to drop the sack into the little intake chamber that sends the water through to the cartridges (in this HOB, the water flows from back to front through the cartridges, unlike the Fluval AquaClears or Seachem Tidals, where it flows from the bottom upward) and I had to put the small foam block in there, as well. Is this okay, and will it provide good additional mechanical and biological filtration? I bought this additional media, again, per Seachem's suggestion to get some more biological material into the filters...
Let me see if I can explain it better with pictures...
Here's what the Aqueon looks like with the cover off: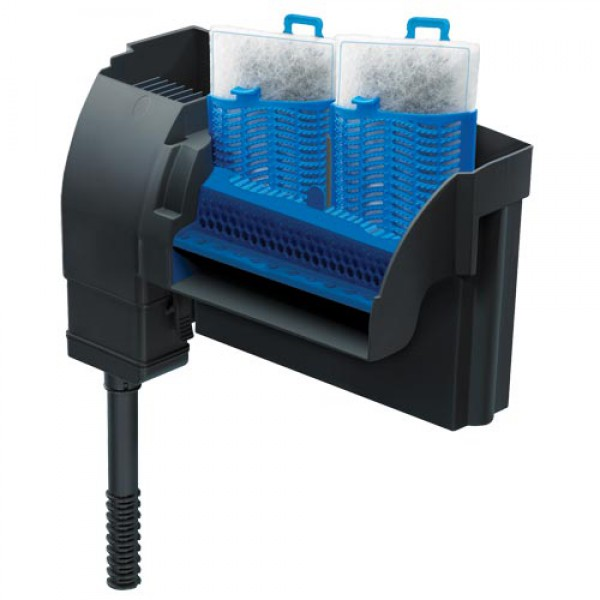 See that little open chamber area above the intake box in the upper left hand corner? That's where I was forced to stuff the foam block and then the sack of bio rings on top of it. This means that the water will go through those pieces and then spill over to the cartridges on the right, where the water should be further polished with the carbon floss pads (all that blue plastic is supposed to "harbor" beneficial bacteria, as well). Is this okay?
Also -- I removed the exhausted ammonia "specialty pads" that Aqueon provides for this model, which fit into this little "bio grid" that sits before the water returns to the tank: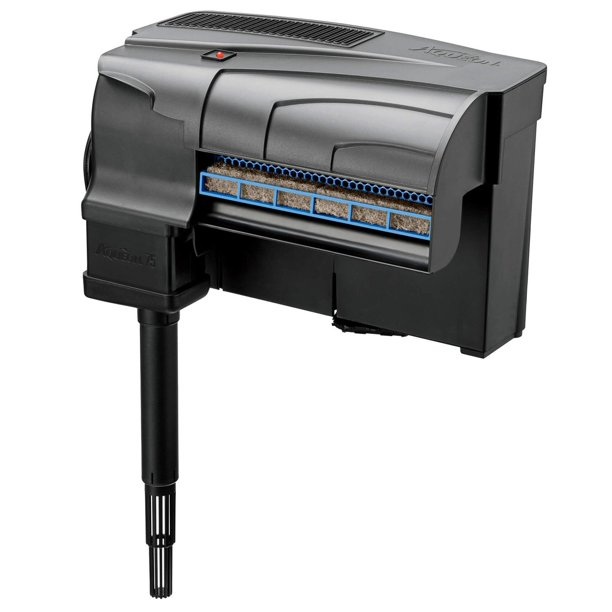 See those "pads" that are sitting in that "cage" near the water return area? I replaced those ammonia removers that were supplied in the box with cut-to-fit pieces of foam block I bought today, so I figured this would just be another area for bacteria to grow on...or perhaps some additional water polishing. Is this okay?
Last edited: