I was hoping to get a small fish or a group of tetras for my tank.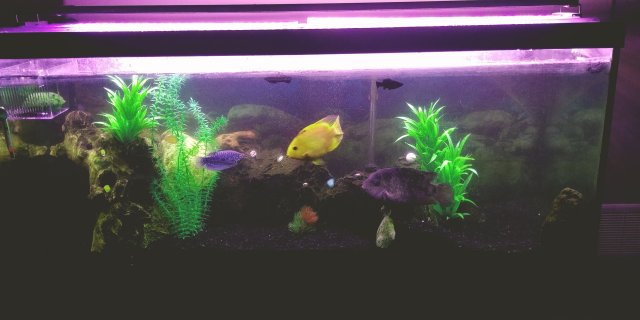 I currently have a 75-gallon tank with 3 mollies, a blood parrot cichlid (about 5"), a baby severum, a dwarf gourami, an unknown mixed cichlid that is about 7" and a featherfin pleco (about 10"). My mixed cichlid ignores any fish under 5" and the rest of the bigger ones are all peaceful. Also, this is weird but my gourami will kill any white or pale-coloured fish (he leaves all the other ones alone).
I was thinking of either getting a zebra pleco, a ram cichlid, a group of cherry shrimp or a group of tetras.
I don't have a lot of experience with non-cichlids and was wondering if any of these fish would cause problems with my current fish and what would be the most compatible. My first choice would be the zebra pleco but I heard that large plecos don't always get along with smaller plecos, so that is my main concern. I'm open to other smaller fish as well so any info/suggestions would be great.