Sometimes no matter how well we care for our snails they get hurt
Usually from falling from up top and hitting the gravel or decorations in the bottom of the tank.
I raise Pomacea Bridgesii aka Mystery aka Apple snails. I have had to do some major patch jobs on a few and wanted to share with others how I accomplished it with pictures.
Some of the larger snails like Apple/Mystery snails that you get attached to sometimes really do a number on their shells. It is devastating to loose a snail to an injury but all may not be lost so don't despair some can be patched and go on living till the end of their natural lives.
I thought some might be interested in ways to fix their shell. As long as the damage doesn't include the body of the snail bulging out of the shell it is usually fixable. Sometimes things like dents on the body or small chips or even large chips at the opening where the snail comes out can and should be left alone.
But other times you will have a spiral snapped off or a hole in the shell without the body bulging out but you can almost see the snails flesh exposed but if left it will continue to get bigger and will eventually kill the snail if left so it needs to be fixed.
A very effective way to patch the shell is to use a fast drying Marine Epoxy. You want to get the fast drying kind since the shorter the time the snail is out of the water the better. The brand I got has a set up time of 15 minutes with total dry time of 1 hour. I went to my local hardware store and bought the kind that looks like play dough in a tube green outside with white inside you simply blend it all together until it is solid white and gently put in on the bad spot. It was really cheap less than $5.00 and there is enough there to do many snails.
Here are pictures of the product:
You can also use bathroom caulking if you can find one without the mildew killer in it that will pollute your whole tank and that doesn't take very long to dry. I was unable to find anything that dried in under 24 hours here but you might find it where you live. I prefer the kind I got for ease of use and and the fact it wont leak into the shell and come into contact with the body of the snail since that can poison and kill the snail.
Since my snails are able to breath and live out of the water for a long time I took a container and put a thin layer of water on the bottom so the snail wouldn't be as stressed and get dried out. If your snail is one that cannot breath air then you can just put enough water to cover the foot of the snail but keep the patched area in the dry.
This is one of my DSP (Dark Stripped Purple) females that somehow managed to knock her entire spiral off not just the tip but all the way to the main part of the shell. I figured she would die even if I patched her because it was just so bad a injury. But I decided to give it a try and see since it could not be left like that.
I patched her up and here she is.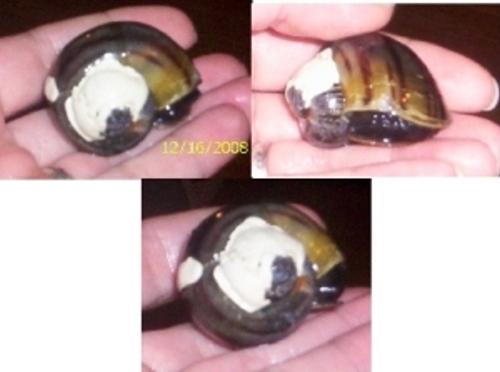 She lays eggs about once a week so that is a great sign that she is healthy and happy.
I had another DSP female who had very minor damage on her main shell from falling or scrubbing it some way but at the time I didn't have the epoxy but even if I had the injury wasn't really large enough to fix with it. Some one told me you can actually use eggshell to patch a small injury so I took clear finger nail polish and a piece of eggshell and stuck it on there.
I wasn't sure it would stay but it has been about 2 months now and it is still there protecting the bad spot. She is also laying eggs and growing well. You can also use nail polish to paint the shell itself if there is pitting or very minor damage to protect it from getting worse.
Here she is

This is a picture of some snails with slight pitting on the spiral this isn't damage from injury but from PH fluctuations. 99% of all snails will have some degree of this pitting even in the best water. PH for these snails should be in the 7.2-7.8 range to high or to low can cause the pitting to worsen.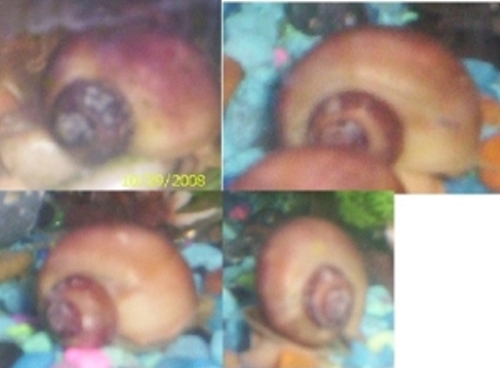 This is the kind of thing nail polish is good for.
This is one of my males he is so chubby that he cant fit his whole body into his shell to hide
You can see he has mating damage on the edge of his shell on the left side. If you look closely under the damaged shell in the first picture you can see a orange spot that is the tip of his penis. This male isn't at all shy like most of my other snails and it is very clear he is a male.
This kind of damage cannot and should not be fixed because that area is what grows and anything you tried to do would make things worse. Since there is no snail attached to that area it wont hurt the snail though if it looks sharp it can cut them so you should watch for that and break off any sharp edges that are hurting the snail being very careful of course.
Here he is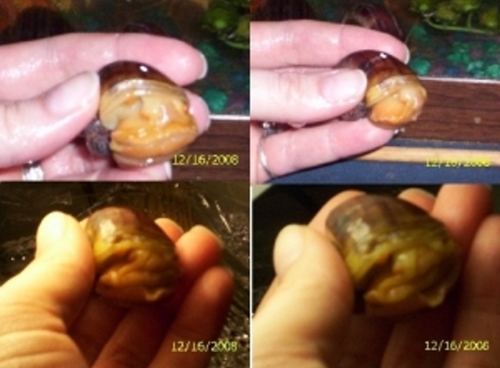 I hope that no one ever has to fix a snail shell but if you do I hope this information will be helpful to you. Please feel free to ask any questions if I wasn't clear enough.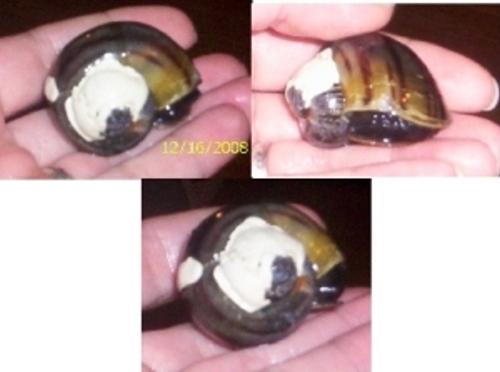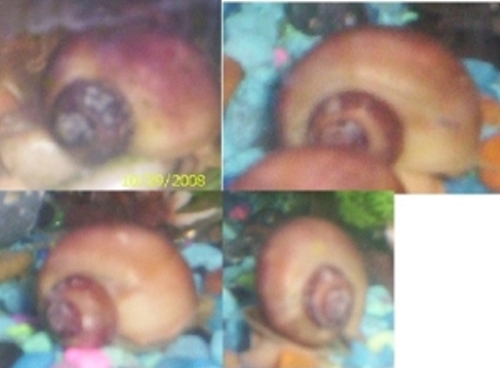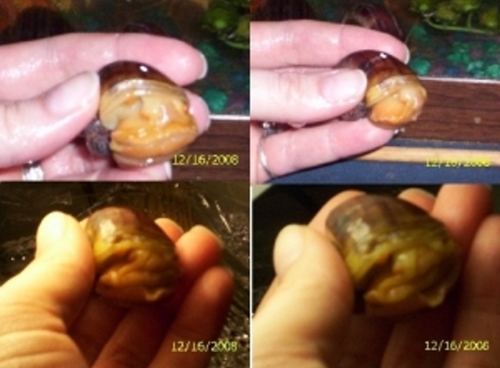 Last edited by a moderator: