Feb 26, 2020
911
1,034
129
29
Camera Used

My phone (Samsung 20)
Little mini journal here. Ive set up a small 1 gallon pickle jar as a planted nonheated tank. Its lightly planted for now, the plants should grow overtime.
I may add an air pump to it in time, if I feel it needs it.
Inhabitants:
Ramshorn snails
Plants:
Salvinia
Hornwort
Substrate:
River pebbles
Fluval Clearmax filter media
I may add shrimp later on in if i feel like itll work out. For now, just the ramshorns.
I am starting it with 3 of my "green" ramshorns to see if they breed the same colour or if theyre just an aberration. As the hornwort grows, i plan on propagating it so the whole jar is a mass of hornwort.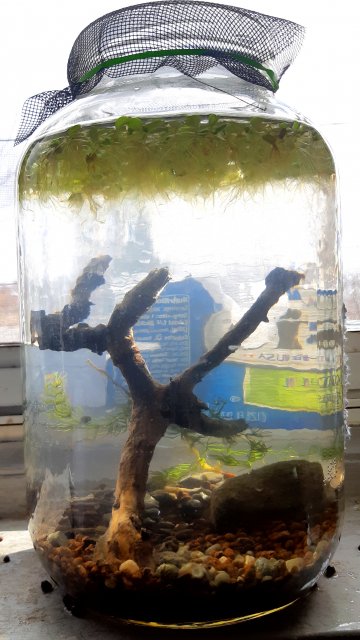 And the first inhabitants