AC Members
Original poster
Nov 12, 2018
63
11
8
45
Real Name

Kris
Freshwater Tank
What is the water volume of the tank? 36 G
How long has the tank been running? 9 months
Does it have a filter? AcquaClear 70
Does it have a heater? Yes
What is the water temperature? 79
Stocking
Gold Angelfish, Pearl Gourami, 2 Bolivian Rams, 7 Panda Cory Cats, 5 Harlequin Rasboras, 6 Mystery Snails, 1 Nerite Snail
MY ALTHEA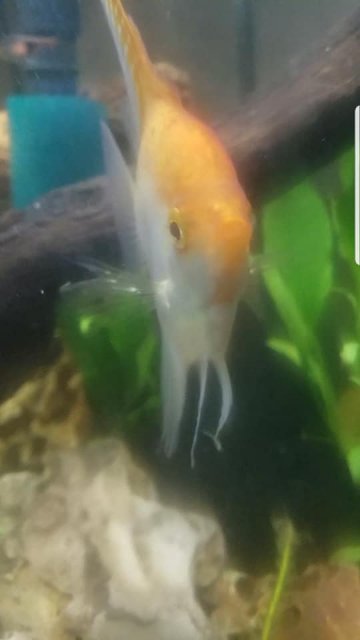 Maintenance
How often do you change the water? Twice weekly
How much of the water do you change? 25 - 30 %
What do you use to treat your water? Prime
Do you vacuum the substrate or just the water? Sand substrate, skim debri off the top
Parameters
API Master Test Kit
Ammonia:0
Nitrite:0
Nitrate:20
pH:7.6
(Note: When switching filters last month went thru a mini-cycle)
Feeding
How often do you feed your fish? Daily
How much do you feed your fish? As much as they eat in 2 mins
What brand of food do you feed your fish? Omega One Flakes, Omega One Tubiflex, Fluval Bug Bites Tropical, Algae Wafers, Omega One Shrimp Pellets
Do you feed frozen or freeze-dried foods? Frozen Bloodworms and Mysis Shrimp
Illness & Symptoms
How long have you had this fish? 9 months
How long ago did you first notice these symptoms?
Noticed 3 spots a few months ago on one pectoral fin which looked like fractures, then 2 spots on other pectoral fin recently, 2 days ago tear in left pectoral fin and spot on dorsal fin. I have recently added rocks (Dragons stone) and 2 new pieces of driftwood which she may have rubbed up against. She likes to try to fit in the tightest of spots. No fin nippers and no one else is symptomatic in tank.
Has been rubbing against plants. (Have a low tech planted tank.) Also run a UV filter.
Have you started any treatment for the illness? No
Was your fish physically ill or injured upon purchase? No
Also she is about palm sized, very stressful netting her. I had a seasoned fish keeper suggest methylene blue baths. I've not
attempted this yet.
Any help
GREATLY
appreciated. Tomorrow is my day off work and will be able to make a trip to closest store that might have meds needed otherwise will order online.
TIA
!!