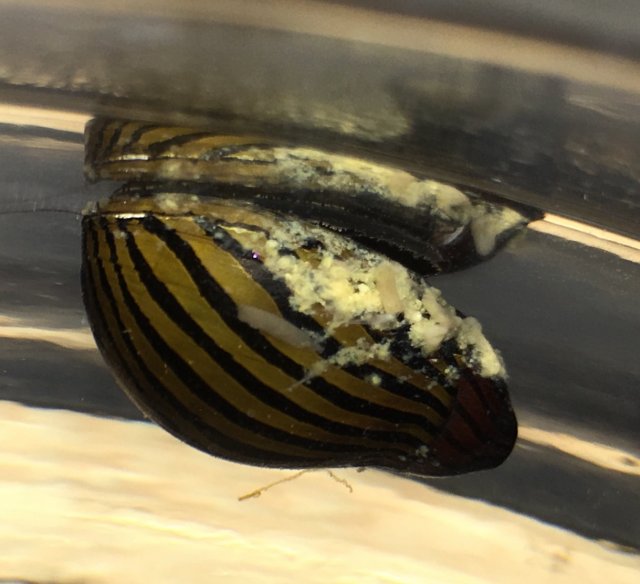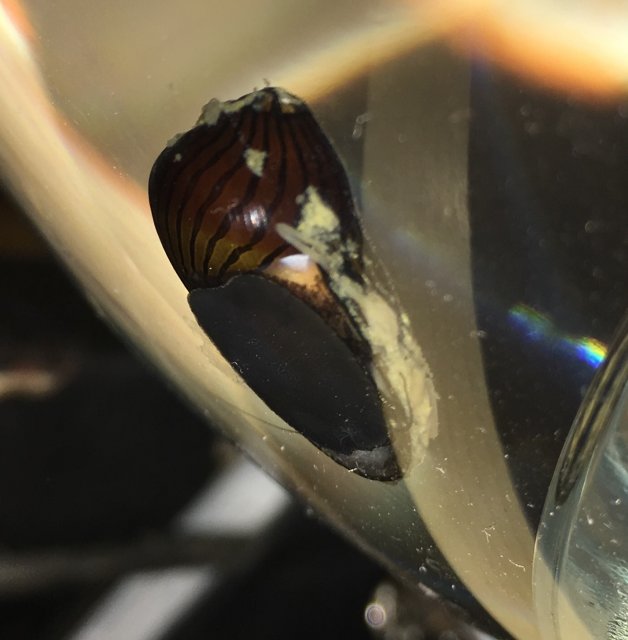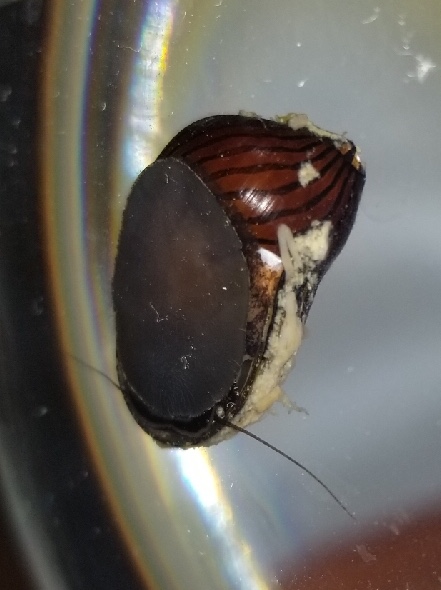 I bought this snail from a LPS a week and a half ago. I put him in a one gallon bowl to quarantine him before adding him to my 5-gallon marineland portraitview betta tank. I do not know the gender of the snail but will refer to him/her as *male* in this post. A few facts about the snail and the problem I'm having:
He came from a highly planted community display tank with other fish, snails, and shrimp.
He was in his bag for a full day (car starter broke after buying him—waited 4 hours for a tow—got home after midnight and hadn't set his bowl up yet).
Noticed before taking him out of his bag for the bowl that he had what looked like poo and a little bit of the white frothy stuff stuck on his shell and wiped it off with a paper towel before adding him to the bowl.
I have been feeding him algae wafers; at first he wouldn't touch them, then I saw him go for one and other times pieces seemed to be missing as if he'd been feeding.
The wafers seemed to make his water very ripe-smelling in a few hours so I haven't been putting them in as often. I thought originally it may be leftover wafers clinging to his shell, but it's the wrong color/consistency.
I do a complete water change every other day; a couple times I've changed it daily.
I originally put red root floaters and parrots feather in with him because they came from the same tank at the store; then I soaked the plants in alum and they went into my betta tank.
He has developed this frothy, lumpy white stuff on the outside of the shell, and some of it looks almost like flat, clear segments.
I took a photo of him to two different pet stores. No one could identify what was on the shell. One person suggested it may be a wound.
Another customer at one of the stores said the flat segments look like planaria and the frothy part looks like a fungus.
A student of mine who has aquariums said the snail was "bubbling to protect itself" — from being lonely or something in the water.
I put a half teaspoon of aquarium salt into the one gallon bowl and brushed the white stuff off his shell with a new toothbrush. I then returned the snail to the bowl. I've been told and read numerous times that nerites can tolerate salt because they come from brackish water.
This morning the snail was on the lid of the bowl completely out of the water. Sometimes he will hang out by the waterline, but it's the first time I've seen the snail completely out of water.
I was sold some Tetra Lifeguard fizzy tabs to put in with him, however, upon getting home I noticed the back says not to use it on invertebrates.
Can anyone confirm if any suggestions I've gotten from various sources are accurate? Does anyone know what is wrong with this snail? Any help would be greatly appreciated!!!!
Last edited: