Well the title is a bit misleading at the moment until it actaully fills in but I assure you the eventual goal will be to live up to the title....LOL
Like most I've had big tank envy for quite sometime considering who some members have their tanks setup you can see how easy that is. My 120g planted tank was nothing to sneeze at (at least for me) it was a serious labor of love so it came with some regret to replace it with the 180g.
Anyway the 180g was going to be a DIY project stand and hood but it immediately became time sensitive and time was something I had very little of not to mention space. Anyway here are some shots of my DIY hood before I shifted gears.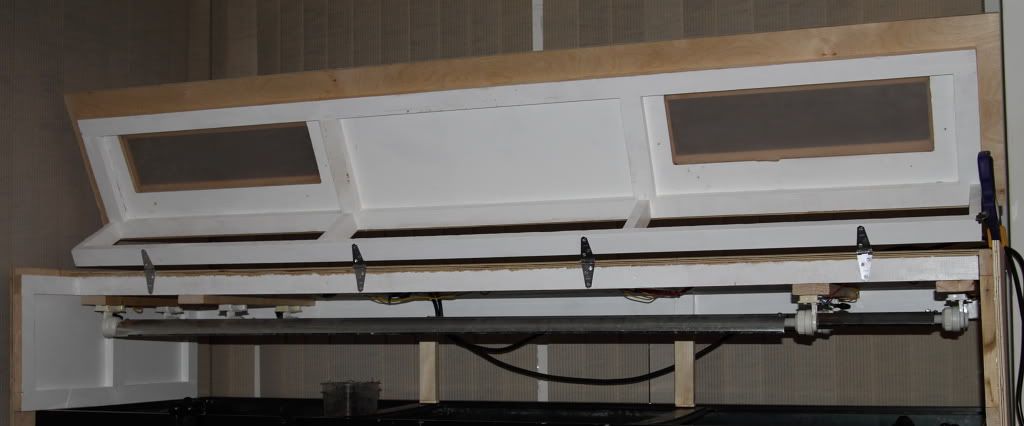 This would allow lighting into the room the idea was to add something decorative in the middle.
But with the hood almost complete and having trouble finding Blonde plywood because my local Lowes had discontinued to carry it I would have had to go to NY to get it. After some debating it was just easier to buy a finished product that would fit our needs.
End result I got a great deal on a used hood and stand but unfortunately I have to modify the hood to get it to fit but you can't win them all. Got the ball rolling for setting up the tank for now. I meant to get step by step shots of the setup but after spend 2 days sifting MS I was done.
180 gallon specs.
Standard 180g long 6'x2'x2'
Pressurize Co2; Mazzie injector; Fluval 405
2 Sunlight Retrofit 80w T5HO kits (4 80w T5HO total)
Mineralized soil
SMS cap
Amiracle SL-200 sump;Mag 12 (not setup yet)
Last edited: