Well it is basically done. Maybe an invertebrate or another nano fish, but I wouldn't feel comfortable adding anymore fish past the 1" range...
Went with a black background this time. First time I've bothered with a background on a tank and I'm really liking it. Except for the fact that it granted the black Lyre-tail Mollies the power of invisibility... :laugh:
Early setup from earlier in the week. Was till in the process of breaking down the 120 and sorting what was going where.
A bit more rock and a few new corals...
And the final layout. Macro algae will probably more around, since the Urchin likes wearing the Cactus Caulerpa (and in turn, the stuff he wears seems to grow faster then normal, so no need to discourage it). Looks like the macro setup will be a couple forms of Halimeda and Cauctus Caulerpa. It was going to include Red Gracilaria, but the Urchin decided that stuff tastes good. :swear:
Saltwater goldfish... :laugh:. Was originally supposed to be a group of Creamsicles, Blacks and Dalmations. Expected some die-off but was hoping the groups would blend since the die-off should be roughly even across the board... only the Dalmations died off. :huh: So now there are two groups that want little to do with each other, one group of 3 (2m/1f) Creamsicles and one group of 2 (1m/1f) Black (otherwise known as "What Mollies? I don't see any black Mollies in there!").
Weird pattern I noticed that formed. My orange Clown took to the Creamsicle group. I was actually worried at first because she (I think it is the dominant one) would wipe out the group since she turned one from a Lyre-Tail into a standard Molly. But she has calmed down and now occasionally swims with them. The black Clown took to the Dalmation group and was a bit more rough with them. And they were a bit more willing to push back. They just weren't any match for a Clown since their idea of pushing was to swim circles around him and his idea of pushing was to nip and harass. They didn't get the chance to settle in and I'm still not sure if it was the stress of transfer to saltwater or the Clown that wiped out their whole group. I'm suspecting the clown since all of the black Mollies and creamsicle Mollies survived.
Proof that they do in fact exist...even if no one sees them most the time... :laugh: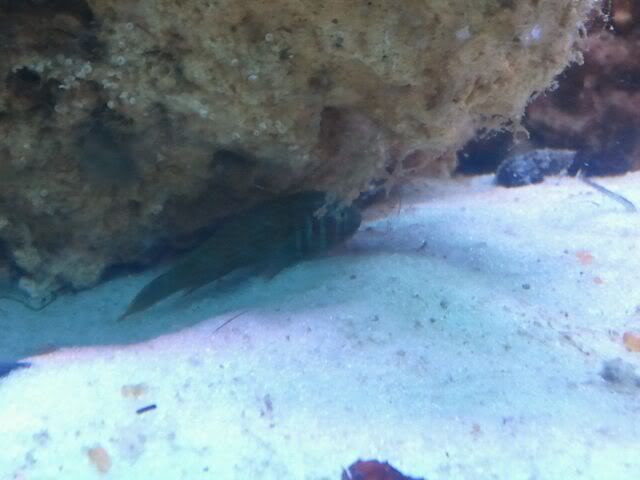 The Clown Gobies. Have a small group going now. Was originally planning on a bunch of them, but after getting 1 Yellow and 3 Green I think that is it. The Greens had some territorial behavior but seem to have sorted it out in a rather simplistic way...they decided to divide up the
whole
tank, rather then fight over the same rock. :laugh: Once they decided who got the rock with the big tree growing out the top it was pretty smooth from there. They seem territorial in a comical way. Like a "how can that possibly be threatening?!?!" sort of way.
This little guy had quite an adventure. Couldn't find him at all during the transfer. Couldn't find him for days as I prepared to trade in the live rock and remaining fish. Had given up on getting him into the new tank. At the LFS that we traded the rock in the manager is pulling rocks out of a bucket and I tell him "There may be an Algae Blenny in there since we still haven't found him", next rock he pulls out has a rather stressed Algae Blenny resting on top of it. :nilly: Luckily I kept water in the live rock buckets since, even though people ship and sell live rock simply wrapped in paper, I can't bring myself to trust live rock that isn't soaking in water.
Caulerpa Cupressoides. Probably will be the primary patch. The second patch of the stuff is currently a hat.
Halimeda and a couple new Toadstools. Sugar grain sand...gonna have to talk to that sand sifter about where he grazes...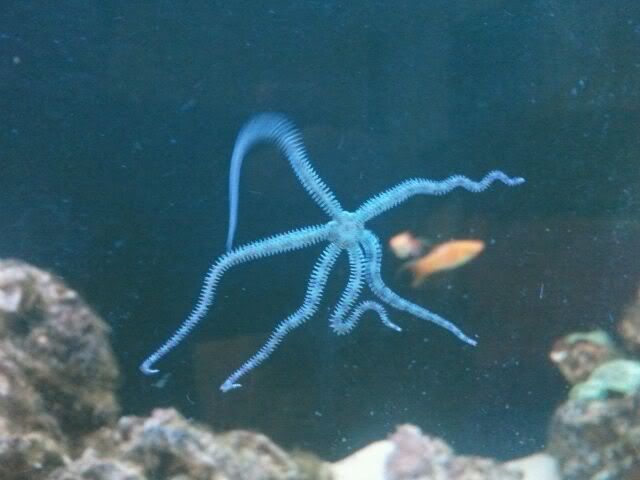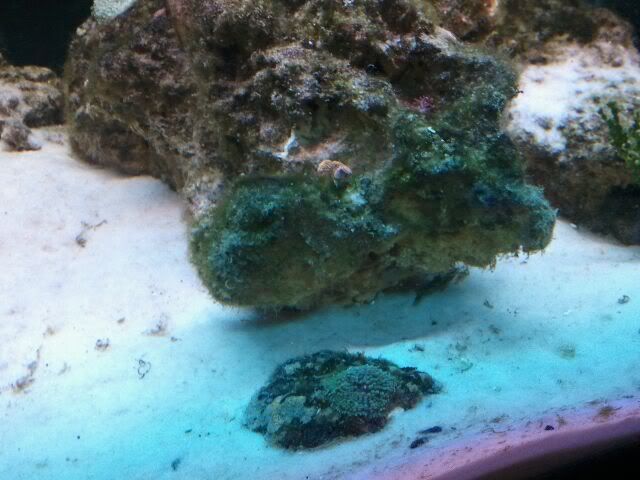 Cut one branch off to frag. Will hopefully get at least a few new Kenya's out of it. It has recovered
very
quickly and is already regrowing the branch.
Not sure why the hermit crabs always insist on hanging out together. They did it in the 120 also. These two were from the display portion of the 120. The ones from the refugium unfortunately didn't make it. Actually...a whole lot from the refugium didn't make it. I didn't realize at first that when the heater broke it cracked open and contaminated the water. Luckily there wasn't enough water left to circulate the system so the damage was limited to bristleworms and whatever snails I didn't remove on day one of the move.
New Xenia frag. Well, multiple frags really. Two groups of two different types of Xenia. With a slightly nervous Algae Blenny peeking around the corner...
Last edited: