Feb 26, 2020
895
1,028
129
29
Camera Used

My phone (Samsung 20)
T
TwoTankAmin
ive got 35 cories in my 55g planted and 21 in my SA blackwater 55g, different species but big groups. The 35 is a hodgepodge of oddball ones with 2 larger groups (trilineatus 13, paleatus 6) and my other tank is split between sterbai and aeneus plus 3 remaining pygmy cories that i figured would be happier among other cories instead of by themselves. But instead they shoal with the black neon tetras lol but at least they're content until I can get more.
I do have to say, I've noticed that cories are happier in higher numbered groups, even if mixed, than in smaller same species groups. My aeneus and sterbai group are a lot more timid and cautious when they want to come out, but the tank with the 35 is nonstop go go go and everyone just chills where they feel like. And unlike many other shoaling species, they aren't aggressive or know the meaning of personal space, so they would much rather have as many cory companions as you can really give them.
The eques were my expensive group, im aiming to breed them (but if it falls through thats fine too! I enjoy them quite a bit on their own), so perhaps will keep a few additional ones if they breed, but theyre in a 20 long as the only fish. Its kinda neat to see how active they are, not only on the bottom level. They go up and down the driftwood, nibble the plants for foods, theyre all over the place. So despite being "only bottom dwellers" its got no lack of action lol. I may keep 2 youngsters for my own, make it a group of 10 in the species only setup.
Speaking of barbels, you should see the barbels on the one eyed cory ive got. Hes been missing an eye since I bought him from the store (I specifically chose him because of it, less than perfect fish isn't a big deal for me) but I swear his barbels grew twice the length to make up for his lack of an eye lol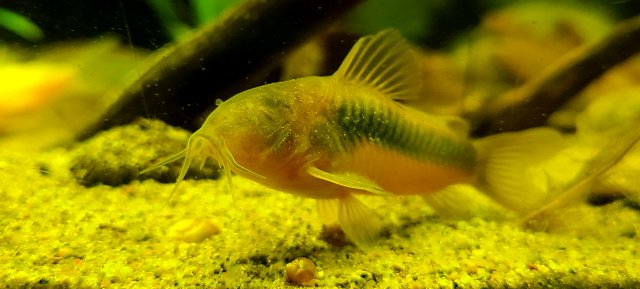 F
fishorama
I do plan on breeding the eques. Its not a common cory, nor easy or cheap to get here, so there's a good market if I can manage that (is not an easy species to breed, from what I've read or been told). If I can manage it and keep it steady, well they'd help support my hobby more so than breeding others. But right now ive still got my hands full with the emperor tetra fry lol they grow so slow compared to cory fry.
What I like about these guys is their colouring is deceptive. Nice fiery orange but its the green that really gets me. Looks sooty black in some angles but they shimmer emerald green from cheek to tail. Its pretty neat, as even the other iridescent cories aren't to this extent. Its almost like these guys change colour completely depending how they move.