AC Members
Original poster
Oct 26, 2016
27
2
1
Real Name

Carly
Hey everyone!
So in October I began cycling my brand-new 20g tall planted tank (first one ever!). Things seemed great, it finally cycled in mid-November, and I added a stock of 1 guppy and 6 neon tetras. Then, two days later, the guppy died. I soon noticed the tetras progressively looking worse and worse until one by one they all died
Water parameters were beautiful throughout so frankly I have no idea what happened. I just won't be going back to that store...but now the tank has been sitting fish-less since mid December and I'm about ready to stock it again. I've given myself the time to mess with water parameters and stuff since I wanted to make sure whatever pathogen had been in the tank was very gone before even thinking about re-stocking. So, here are my questions:
I switched to RO water because my tap water is awful (TDS is close to 700, nitrates are sky-high, and I'm over it) and I've been trying my absolute best to get my parameters to be adequate for soft-water fish. I've been using Alkaline and Acid Buffers by Seachem as well as Equilibrium (though I haven't needed to use it yet since I'm still slowly reducing GH through water changes). I've been dosing the tank with Excel (no CO2 currently), and Flourish Trace and Comprehensive on alternate days + root tabs. My HOB is an AquaClear 50 gallon.
1) My current plane is to house panda cory cats, neon tetras, a single dwarf gourami, and ideally a duo or trio of guppies. What water parameters should I aim for that would best suite these fish considering my guppies are moderately hard water fish? (My thoughts were GH and KH of around 6 and a pH of 7.0....not sure though!).
2) I can't get my pH to 7.0. I've gotten it to 6.0, 6.6, 7.4, and much, much higher. Any tips on how to use Alkaline and Acid Buffers to get my RO to 7? (or to whatever pH and KH you think is best for the fish I'm planning to stock with?)
3) When my parameters are finally stable, in which order and how many at a time would you stock the tank? I'm currently cycling 2.0+ppm NH3 in 24 hours though I'm pretty sure I could do more. Should I do more?
4) I've become completely disillusioned with the LFS options available in Philadelphia and I don't have access to a car. Has anyone had any experience with LiveAquaria? If not, any other online options/general tips for purchasing online or serious warnings against it?
Any other tips would be much appreciated! As of today, my water parameters are: Temp 78F, NO2- 0ppm, NH3 0ppm (before dosing it up to 2ppm), pH between 7.4 and 7.6 (it maxes both the pH low and pH high on the API test kit so I think it's probably like 7.5), KH 4, and GH 14.
Here are a few week-old tank pics (I've done some aquascaping to clean it up but this is the general idea of things)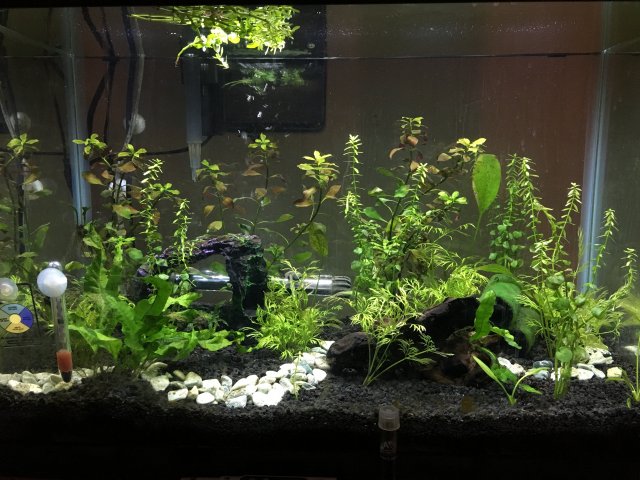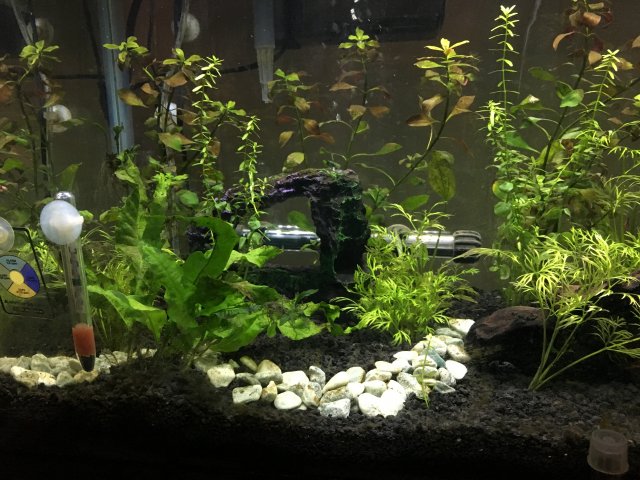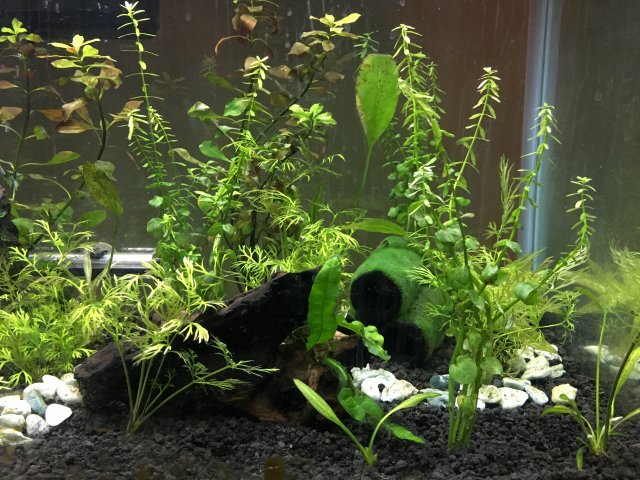 Thanks again for the help!
Last edited: